I love traditions, but don't currently have very many of them. One I picked up last year from Emily, was a pumpkin themed dinner every Halloween!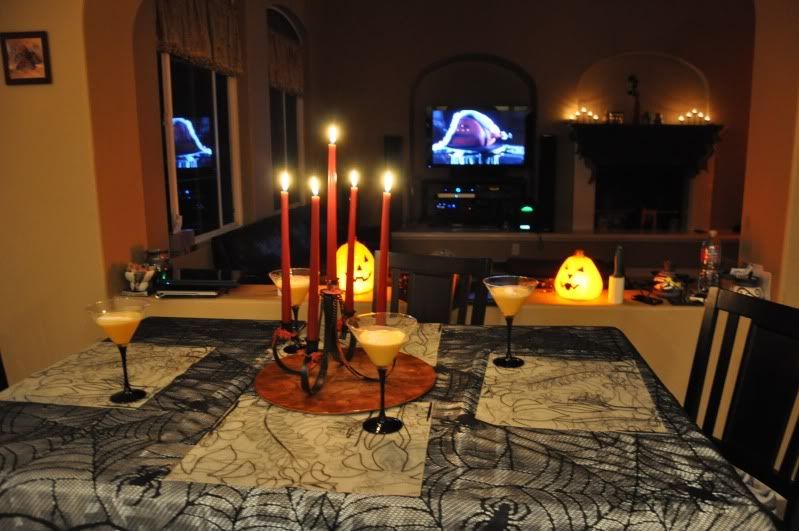 Our Halloween Table!
Of course Halloween, and pumpkin dinner, aren't complete with actual pumpkins as well!
We each made a course (although there was some collaboration for each dish!) While I understand assigning me to 'beverage' it's a difficult task on Halloween, in general pumpkin does better in non-liquid forms I think.
Salad:
Spinach salad with avocado and pumpkin seed in a lime vinaigrette dressing
. Very good use of pumpkin in a still refreshing salad!
Main Course:
Pumpkin Ziti
This was a big hit last year so we did it again! Very good
Transition Dessert:
Pumpkin Souffle
. This pretty much tasted like a less sweet pumpkin pie without the crust, aka AWESOME! It was transition desert because clearly dessert was any candy the trick or treat-ers didn't sneak away with! It didn't photograph that well...
Drink:
Pumpkin Spice Martini
, not a huge hit, but drinks with pumpkin not that easy to come by and not that likely to be awesome I think. Plus, it was very pretty.
Then Candy all night!
It was the best week ever, but Halloween is always so much fun, especially with good friends and good food.