Monday
:
Clam Chowder care of Commerce Casino
Commerce isn't known the world over for their culinary expertise, but I certainly couldn't have asked for better company than Jen and Heather and even a few minutes with Gavin! They also made a pretty awesome looking peach martini for Heather, although I stuck with the Cab.

Tuesday
:
Brie and hard cheddar with crackers and Sauvignon Blanc
. Okay, in reality this was our dessert, but it was delicious and pretty. :)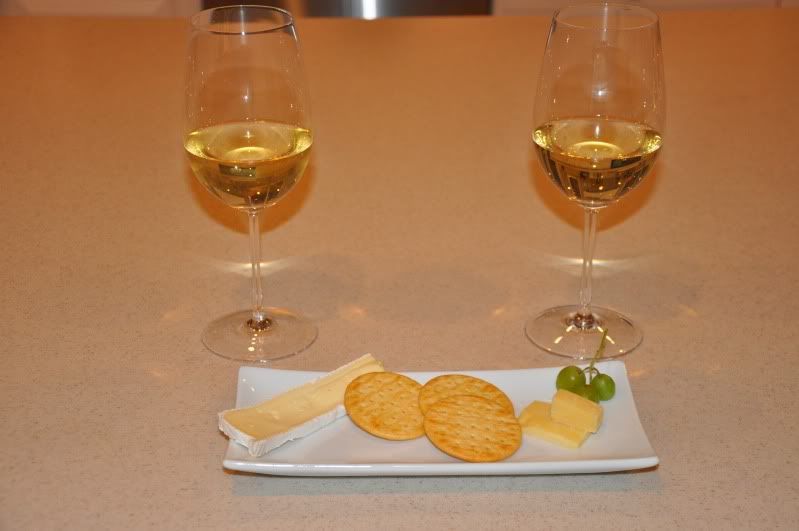 Wednesday
:
Garlic and Rosemary Chicken with sweet Potato.
I was pretty proud of this meal. Gavin and I decided we should find out, and eat, what was in our freezer. We had a ton of chicken. I defrosted a piece of chicken with no idea what I was going to do with it. I decided to cut it up and saute it with garlic and rosemary. The whole house smelled amazing! I ended up making another one for Gavin to eat when he got home.
Thursday
:
Sweet Potato.
While my chicken stole the show, I also remembered that I LOVE sweet potato. How do I keep forgetting that?? Five minutes in the microwave=delicious.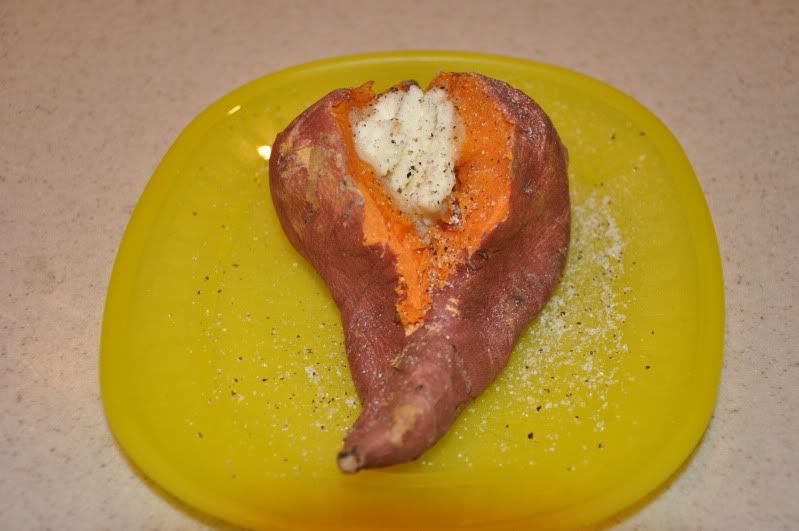 Friday
:
Surfin Souvlaki
I had a Greek Breakfast burrito which was quite good. Gavin and I have been trying to scoop out new places to eat and this is on the way to the jewelers (I was on my way to get my ring cleaned 6 down, 94 to go.)
Saturday
:
Sushi, Green Valley Ranch
Sautrday, we drove to Vegas to visit my parents for Gavin's Birthday. We watched the UFC ( tear for BJ) and then ate Sushi.
Sunday
:
Battista's Hole in the Wall, Las Vegas
Sautrday, we drove to Vegas to visit my parents for Gavin's Birthday. We meet up with Dustin and he took us to this cute little resturant at the Strip and Flamingo.
So not only am I late, but I hardly even cooked! This week isn't shaping up to be a spectacular cooking week, as we weren't able to grocery shop over the weekend, but we'll see what we come up with!