It took us almost 10 months to choose a stroller. After a million charts, graphs, lists, discussions, debates and throwing our hands up, we now have two!
Gavin and I have a pretty good system and usually we are able to make decisions very well. Something broke down with the stroller process. I suspect price was a factor. I didn't know at the start that purchasing a stroller is more akin to buying a car than a baby toy.
The second problem was how much our family loves carriers! From the B'jorn to the moby to our new Beco, Colin loves being carried. I love that the carrier is a giant cuddle all day long. Plus, a carrier is super easy; you can navigate around without the hassle of wheels. But with summer approaching, and Colin ever growing, we've realized we won't always be able to carry him. Better to get a stroller now since we will eventually need one.
Still, around and around and around we went. Then we went to the Ladera Garage Sale and randomly found a BOB jogger stroller and bought it. :) It's a nice stroller, but it made me realize I wanted our 'real' stroller. So the next day we purchased our stroller!
Ta da!
I really REALLY really wanted a stroller with a reversible seat. Lots of people told me it wasn't worth it, he's only going to want to face me for a short time before he's ready to watch the world instead. I don't care if it's just another day, I don't want to miss a single second of that lovely face. Plus, one of my main reasons for NOT carrying Colin all of the time is that, ironically, sometimes you get less interaction. A forward facing stroller wasn't going to remedy that!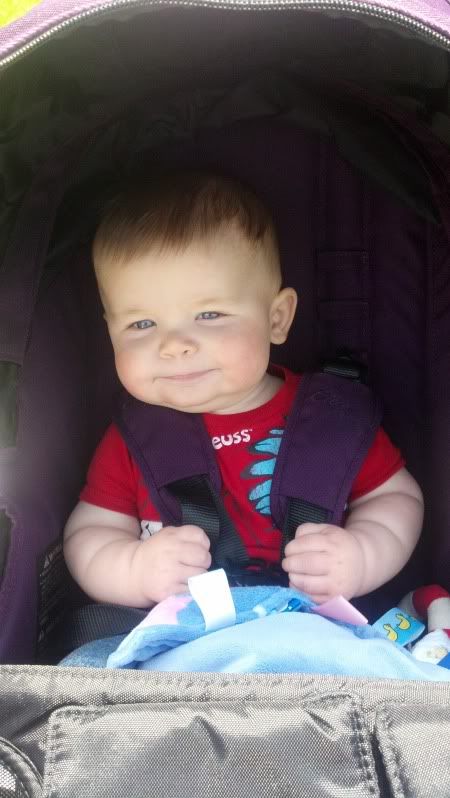 My Favorite View!
I'm very happy with our purchase. It took some getting use to, especially because our snap and go was SO easy and light. I'm hoping we get years and years of use out of our City Select!